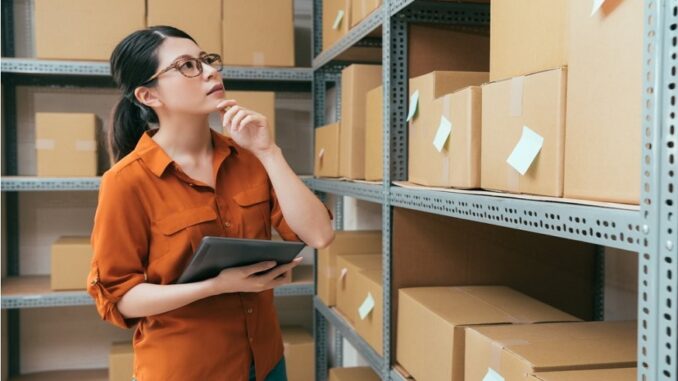 The eCommerce business is fast-growing, and managing & tracking inventories have become quite challenging for organizations. With the company's expansion, inventory management became a tremendous task. Regardless of the organization's size, inventory maintenance has become a vital part of the industry's supply chain management and must be dealt with. But how? Prominent eCommerce platforms such as Flipkart, eBay, Amazon, etc., have extensive inventories. These platforms are well aware that an organization's stock is one of the most substantial assets of an organization. These organizations use the best inventory management software to enhance their sales funnel and accelerate customer satisfaction.
So, here in this blog, we will read the essential features of inventory management software.
What Is Inventory Management Software?
You can keep track of products through your company's supply chain using inventory management software. It facilitates product acquisition, inventory availability monitoring, and trend analysis. In other words, the best eCommerce inventory management software optimizes the entire spectrum from ordering delivery for your consumer to making an order with your vendor. It charts a product's whole journey.
Essential Features of Inventory Management System
If you are planning to integrate inventory management software to streamline and automate your business, ensure that the software must possess the following features:-
Inventory Tracking
Monitoring your inventory level is the primary focus of an inventory system. It should keep track of every order you receive, every order you fill, and when you need to restock your supply. You can track your goods with the use of many inventory tools. Not every software has the same features, so selecting the system that meets your demands is crucial. Barcode scanning is one of the most used and demanded features that enables the easy transfer of electronics through barcode scanning. A barcode's data is linked to something, such as a lot number or a purchase order. When a product is scanned, the system shows the information so that users can learn more and take action. Other tracking tools are lot or batch control, serialization, RFID Tags, and more.
User-Friendly Interface and Integration
Getting your project's essential functionalities from a single source (software or tool) is impossible. Any inventory system should be able to communicate information automatically with other systems or apps while maintaining a close sync with them. In this manner, you can avoid wasting time synchronizing data. For instance, your inventory system should be able to automatically update your order records and issue an invoice on the exact using billing software solutions.
Additionally, the system needs to have an intuitive user interface so that people can easily access it. However, the term "user-friendly" implies that the software must provide easy navigation so that every person can use it without having significant technical or coding knowledge. On the other hand, the system should have a thorough tutorial that explains how to utilize the software, and any new team member can pick it up and use it without wasting too much time in training sessions.
Scalability
The business will constantly grow whether you are a startup or an established company. The inventory management software must be scalable as the business expands, and it should be able to handle upgrades and more data capacity. Switching systems each time your business grows is possible and expensive. Additionally, it will disrupt the ongoing process and result in other issues. Therefore, spending money on a flexible, scalable system makes sense.
Reporting and Analysis
Reporting is a crucial element for any software. You can evaluate the effectiveness of your workflow via reporting. Real-time report generation and customization should be possible with the right inventory software. Purchase and sales reports, order histories, and invoicing are standard reports you can view and save further in this software. There are numerous additional reports, and you should know what your firm requires.
The system should also provide more information than just how much stock each product has remaining. It should be able to evaluate the information and forecast the coming trend. For example, it can produce a report on the more profitable products, which can aid in identifying sales patterns. You may make a wise business decision with these insights into your data analysis.
Automatic Replenishment of Stock
When inventory goes below a predetermined level, inventory management should be able to generate a purchase order instantly. Orders with the appropriate quantity will be generated once your stock reaches that minimum. You must approve the order after it is created before the products may be dispatched. This functionality is necessary if you want to make sure you have enough supply. The strategy also prevents overstocking of your goods and spares you from purchasing needless capital equipment.
Reliable Customer Service
Customer satisfaction is very crucial to enhance customer retention and referral rates. A sound inventory management system provides you with 24×7 customer assistance. If your customer might face any difficulty while ordering or returning any order, your chatbot will assist them. It also makes your customers feel that your organization can care for them, and quick response from your side also builds customer trust in your organization. The best inventory management system presents numerous predetermined answers to queries.
Conclusion
So, in the above article, we have mentioned factors essential for the best inventory management software. Whether a small business or a large enterprise, you must focus on your inventory management software to increase your work efficiency. However, another crucial aspect you must keep in mind is B2B ecommerce management with multilanguage support to impact your overseas customers without any language barrier.